Power Wash Home Importance
If you're a homeowner looking for a way to improve the look of your home, a power wash home may be the answer. It's an easy and inexpensive way to get your house looking brand new, and it can also make it easier to keep it that way.
Improves curb appeal
If you're planning on selling your home in the near future, you'll want to do what you can to boost its curb appeal. The good news is that the process can be easy and inexpensive.
A power washer can do the trick. Not only will it remove dirt and grime from the exterior, it can also add to the resale value of your home.
Getting your home's front door painted is one of the easiest and most cost-effective ways to improve its appearance. This is especially true if you have a wrought-iron door. These types of doors are highly customizable and can even be made to resemble a smooth dark wood.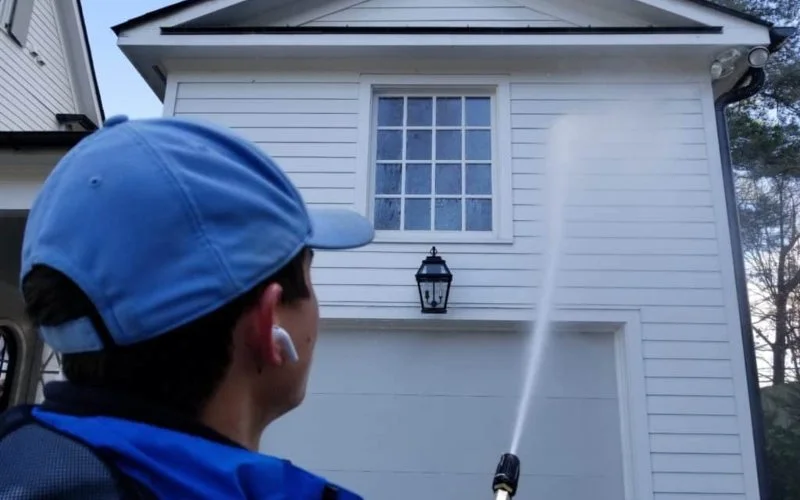 While the front door is the apex of the home's exterior, there are other areas that are worth considering. Landscaping is important, but dead shrubs can detract from its appeal.
Power washing your driveway can make it look like new again. It's no secret that a clean exterior sends the message that you take care of your home.
Prevents mold or mildew
Mold and mildew can be a health hazard for you and your family. If you find mold and mildew in your home, the best thing to do is take action.
The most effective defense against these harmful molds is to keep the dampness out of the house. There are several ways to do this, including regrading the yard, fixing leaky air-conditioning ducts, and repairing sewer backups.
Another way to prevent mold is to store all of your household textiles in a well-ventilated area. For items such as pillows and mattresses, a dehumidifier will help keep the moisture out.
To protect wooden parts of your building, you can use a salicylanilide solution. It is made by mixing 11 grams of salicylanilide with one quart of rubbing alcohol.
WiseGuys Pro-Wash
https://www.google.com/maps?cid=14964188319842587706
267 W Wieuca Rd NE STE 202, Atlanta, GA 30342
(404) 596-5334
https://wiseguysprowash.com/