The Amazing Benefits of Power Washing and How to Do It Right
Are you thinking about having some power washing done around your home or office? Though it may seem like a daunting and time-consuming task, the reality is that power washing comes with some incredibly beneficial results. From removing dirt and debris from hard-to-reach places to reviving aging fixtures and siding, there are an array of advantages associated with pressure washing. Furthermore, if done correctly, it can be one of the most cost-effective methods for maintaining your property without having to hire expensive professional services. In this blog post, we'll cover the amazing benefits that come along when you invest in power washing as well as a few important tips on how to do it right!
What is Power Washing and How it Can Benefit You
Power washing, sometimes referred to as pressure washing, is a powerful cleaning method that quickly eliminates dirt, mold, and mildew from exterior surfaces. It can be used to bring back the look of many outdoor spaces with minimal effort. Not only does power washing help drastically improve the appearance of outdoor spaces; it also helps protect surfaces from further damage and decay, allowing them to last for years longer than if left un-maintained. Power washing is an affordable and effective solution for anyone looking to spruce up their outdoor space without breaking the bank. With proper use, it can leave any exterior surface looking like new and unlock many amazing benefits that make the effort well worth it!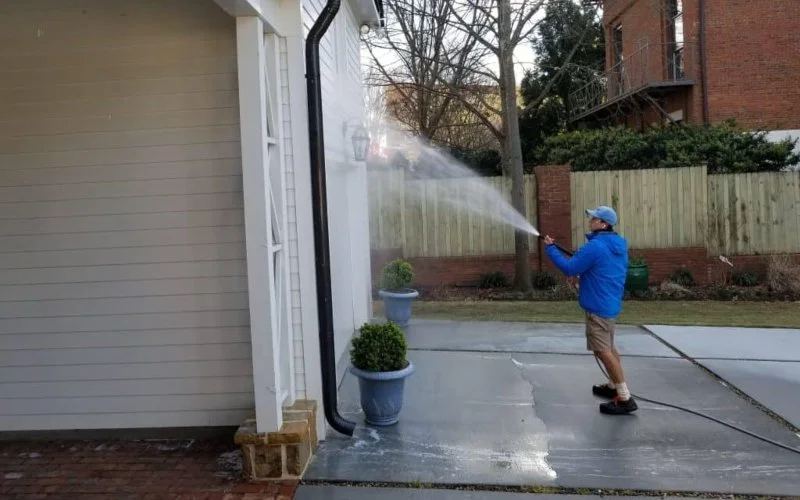 Preparation Tips for a safe and effective power washing
Preparing the right way for power washing is key to executing a successful job that achieves the results you want. When getting ready to power wash, it's important to start by gathering all of the supplies you will need. For effective power washing, make sure you use a pressure washer that is appropriate for your surface. It is also critical to select a cleansing solution specific to your surface type as generic solutions can cause more harm than good. Additionally, always wear protective gear and eyewear while power washing and keep in mind the wind direction – this will ensure neither you nor anyone around you gets hit by debris due to powerful AIR flows from the pressure washer. 
Different Power Washing Techniques for Different Surfaces
Power washing should be tailored to each surface for optimal results. For example, a low-pressure washer and detergent are needed for vinyl siding or aluminum sidings. When power washing stucco, it is important to use low pressure so as not to penetrate or damage the wall surfaces and apply only a mild detergent mix. Wood decks and fences often require high-pressure water, but be mindful of the type of wood so that no damage is done. Concrete driveways can also benefit from power washing but make sure not to get too close, otherwise deterioration may occur. While brick with mortar holds up well in most cases, it is important to use proper technique because some areas cannot withstand high pressure water. No matter the surface, it's always best practice to refer to manufacturer's guidelines and do some research in order to determine the safest and most effective way of power washing your home!
How to Choose the Right Pressure Washer and Detergent
Choosing the right pressure washer and detergent for your cleaning needs can make or break the outcome! Before you start, consider the type of surface you'll be cleaning and the level of grease and grime you're dealing with. Different types of pressure washers contain different levels of power, from 2,000 to 4,000 psi (pounds per square inch). If you want to go beyond basic cleaning tasks like sidewalk and car washing, then select a machine with more power; however, when in doubt it's best to get a professional opinion. Detergents are also important as they help cut through grease and dirt to deliver superior results. It's important to choose detergents designed specifically for your pressure washer model so that they will mix properly and apply evenly–otherwise you could experience clogging or inefficient cleaning. 
Removing Stubborn Stains, Grime, and Dirt from Various Surfaces 
Power washing can be an efficient and cost-effective way to clean a variety of surfaces to remove stubborn stains, grime, and dirt. Utilizing either cold- or hot-water pressure washers with the right cleaning detergent can allow you to work quickly through surfaces like masonry, wood, aluminum siding, plastic, concrete patio furniture, driveways, and other exterior surfaces. Pressure washing experts do have professional-grade power cleaners that provide even better results than consumer models; however, following a few basic guidelines can give you reliable and safe results with your own power washer. Make sure to use the manufacturer's recommended pressure settings for the task in order to avoid any surface damage and keep yourself and those around you safe.
WiseGuys Pro-Wash
https://www.google.com/maps?cid=14964188319842587706
267 W Wieuca Rd NE STE 202, Atlanta, GA 30342
(404) 596-5334
https://wiseguysprowash.com/