Collaborate Pros Was a Wise Decision for a Pressure Washing Marketing & SEO Agency
Boost Your Local Pressure Washing Company's Visibility with SEO Marketing
In today's digital age, having a strong online presence is crucial for businesses of all types and sizes. Local pressure washing companies, in particular, can significantly benefit from leveraging SEO (Search Engine Optimization) marketing strategies. By optimizing your website and online content, you can improve your visibility on search engines, attract more local customers, and ultimately grow your business. In this article, we will explore how and why SEO marketing can help your local pressure washing company.
Collaborate Pros has been working with Wise Guys Pro Wash since August, 2020.  Their traffic has gone fro m500 per month to over 6,000 visitors per month! The chart below shows the SEO rankings results for Atlanta, GA for Wise Guys Pro Wash Services.  This type of organic traffic is worht more than $12,000 per month in FREE traffic generated by implementing the right SEO methods for power washing companies.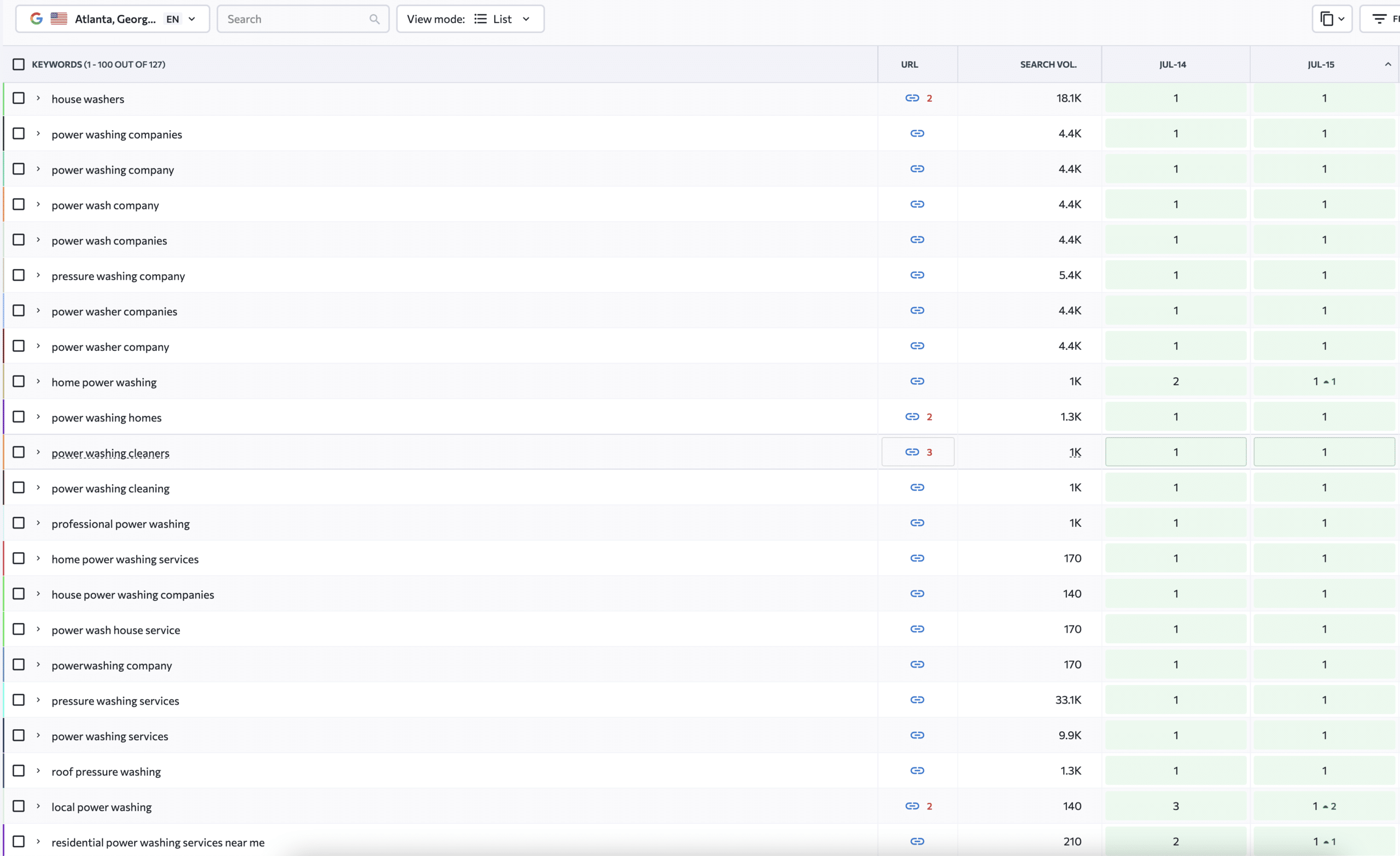 Increased Online Visibility: SEO marketing focuses on optimizing your website and content to rank higher in search engine results. By targeting relevant keywords and phrases that potential customers may use when searching for pressure washing services in your area, you can increase your online visibility. This means that when someone searches for "pressure washing services in [your location]," your website is more likely to appear at the top of the search results, increasing the chances of attracting organic traffic.
Targeted Local Traffic: For a local pressure washing company, it's crucial to target customers within your service area. SEO allows you to optimize your website and content with local keywords, such as "pressure washing services [your city]," helping you attract targeted local traffic. By focusing on your specific service area, you can connect with customers who are actively seeking pressure washing services in your vicinity, increasing the likelihood of converting them into paying clients.
Improved Website User Experience: SEO is not just about keywords and rankings; it also emphasizes creating a positive user experience on your website. Search engines consider factors such as website speed, mobile-friendliness, and easy navigation when determining rankings. By optimizing your website for these factors, you not only please search engines but also provide a seamless experience for visitors. A user-friendly website encourages visitors to explore further, engage with your content, and potentially contact you for their pressure washing needs.
Effective Local Listings: Optimizing your business listings on various online directories and review platforms can significantly impact your local SEO. These platforms, such as Google My Business, allow you to display essential information about your pressure washing company, including contact details, operating hours, and customer reviews. Optimizing your business listings helps search engines understand your local relevance, boosts your credibility, and increases the likelihood of appearing in the local map pack or "snack pack" results, which prominently display local businesses on the search engine results page.
Establishing Credibility and Trust: A well-executed SEO strategy not only improves your visibility but also helps establish credibility and trust among potential customers. When your website ranks highly in search engine results, users perceive your business as more trustworthy and authoritative. Additionally, positive reviews and ratings, which can be facilitated through SEO efforts, further enhance your reputation. By consistently delivering valuable content, providing exceptional service, and actively managing your online presence, you can build a solid reputation within your local community.
When comparing Organic Traffic to Paid traffic to your website, Organic Traffic wins every time. Why? The chart below shows the time on site for each set of traffic.  Paid traffic comes and leaves quickly while the organic traffic stays on the site longer, reads more content, and is a more targeted consumer.

The BEST part of organic traffic… You do not need to pay for this traffic! Paid traffic STOPS as soon as your credit card is maxed out, or you don;t pay for the ads that are running. This will literally shut off all your traffic coming to your website.  Organic traffic will keep coming back day after day for literally zero dollars!
SEO marketing is a powerful tool for local pressure washing companies to enhance their online presence, attract targeted local traffic, and drive business growth. By optimizing your website, leveraging local keywords, and managing your online listings, you can establish credibility, gain visibility on search engines, and ultimately outshine your competition. Embrace the power of SEO marketing, and watch as your local pressure washing company thrives in the digital landscape.