ClickCallSell Was A Wise Choice For Pressure Washing Marketing
There are a lot of aspects to scaling a pressure washing company successfully. The 4 main components that I have learned are Marketing, Admin, Production and Sales. This article is about the Marketing aspect of scaling WiseGuys Pro Wash and how ClickCallSell has been an intrical part of the process.
Finding The Right Company To Partner With For Pressure Washing Marketing
As our company grew I knew that I needed to find a digital marketing company that would be able to supply the leads we needed to support our growth and keep our technicians busy. I was introduced to ClickCallSell through the Conquer coaching program. After speaking with Michael and talking to some of their other clients I made the decision to hire CCS as our marketing company.
WiseGuys Pressure Washing Website
The first order of business was to have ClickCallSell build us a new pressure washing website. The process was very streamlined which I appreciated because I am very busy and do not have a ton of time to spend working with vendors. Their team designed our new website and helped to write the content for it and as you can see did a wonderful job.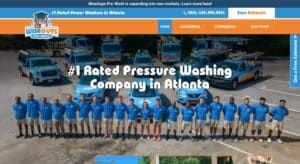 Google Ads For Pressure Washers
The Atlanta market has a lot of pressure washing companies running Google Ads so it can be difficult to get good results. ClickCallSell has the upper hand due to the fact that they have close to 200 clients and the majority of them are exterior cleaning companies. They are able to analyze data from all of these companies to build Google Ads for pressure washing companies that crush it. The minute they turned our ads on we started to get leads and the return on investment is scalable which is what we were looking for when we hired them.
Google Local Service Ads
When Google Local Service Ads hit the market we were not quite sure how to approach them. ClickCallSell has a dedicated representative at Google that walked us through the process of setting up a Google LSA account and optimizing it for best results. I really feel as though we had the upper hand during this time being able to be one of the first companies in our area to become Google Guaranteed.
Looking Forward To Continued Success
As we continue to grow I wholeheartedly believe that CCS will remain the digital marketing company that helps to fuel our growth. If you are a pressure washer and would like to chat with ClickCallSell about how they can help you to succeed, go to their website and tell them WiseGuys sent you!