How to Choose the Best Pressure Washing Company for Your Needs?
Not all pressure washing companies are created equal. In order to find the best company for your needs, you'll need to do your research. Here are some tips for choosing the best pressure washing company for your needs.
Make sure the company is insured and licensed. This is important in case of any damages that may occur during the pressure washing process.

Ask for references. A reputable pressure washing company will have no problem providing you with references from past clients.

Read online reviews of different pressure washing companies. This will give you an idea of what others have thought about their experience with a particular company.

Best Pressure Washing Company

Get multiple quotes from different companies before making a decision. This will allow you to compare prices and services offered.

Ask each company what type of equipment they use and make sure it's appropriate for your needs. You don't want a company using subpar equipment that could damage your property.

Make sure the company you choose is experienced and has a good reputation. You don't want to entrust your property to someone who isn't qualified to do the job.
By following these tips, you can be sure to choose the best pressure washing company for your needs. Pressure washing is an important part of maintaining your home or business, so make sure you choose a reputable company to get the job done right. There are many benefits to pressure washing your home or business.
Some of the most notable benefits include:
Increased curb appeal. A clean and freshly pressure washed home or business will look much nicer than one that is dirty and stained.
Improved sanitation. A pressure wash can help remove dirt, grime, and bacteria from your property, which can help keep you and your family healthy.
Increased property value. A well-maintained and pressure washed home or business is more likely to sell for a higher price than one that is not maintained.
Reduced maintenance costs. A well-pressure washed home or business will require less frequent maintenance than one that is not cleaned regularly.
Improved safety. Pressure washing can help remove potentially dangerous substances from your property, such as slippery algae or moss growths.
These are just a few of the many benefits of pressure washing your home or business. By choosing a reputable pressure washing company, you can enjoy all of these benefits and more!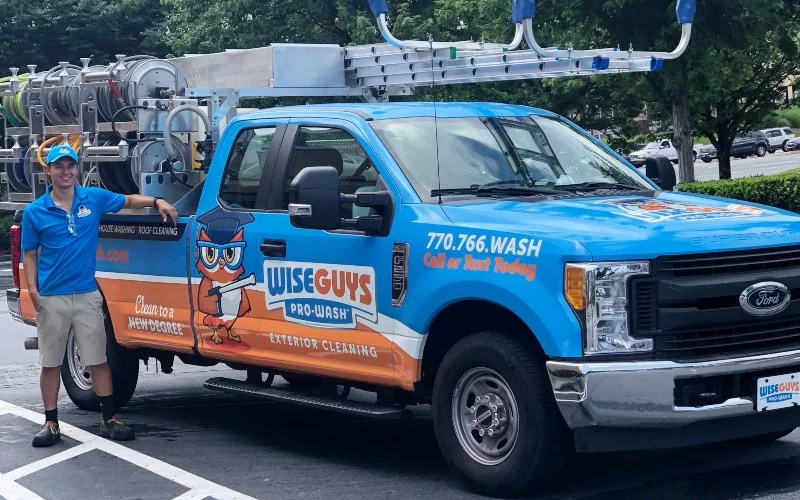 If you choose to have a pressure washing company clean your home or business, there are a few things you can expect. First, the company will likely ask you to move any items that may be in the way of the cleaning process. They will also need access to water and power sources.
Once the cleaning process begins, you can expect a lot of noise and water runoff. It's important to stay clear of the area being cleaned, as the high-pressure water can cause injury. The company will likely work quickly, so it's best not to touch anything until they have finished.
After the job is complete, it's normal for there to be some residual wetness or streaking. The company should provide you with tips on how to best clean and dry the area. With a little bit of patience, your property will be looking as good as new in no time!
WiseGuys Pro-Wash
https://www.google.com/maps?cid=14964188319842587706
267 W Wieuca Rd NE STE 202, Atlanta, GA 30342
(404) 596-5334
https://wiseguysprowash.com/