The Benefits of Commercial Power Wash
Businesses that neglect the exterior of their building are often seen as unprofessional and untrustworthy. By hiring a professional to power wash your building, you can improve the look of your business and increase customer confidence. In addition, commercial power wash can also have the following benefits.
Improved Safety: Power washing can remove built-up dirt, grime, and other materials that can make your building slippery and dangerous. By removing these potential hazards, you can help keep your employees and customers safe.
Increased Efficiency: A dirty building can make it difficult for customers to find your entrance or see your signage. It can help improve the visibility of your business and make it more efficient.

Commercial Power Wash

Improved Air Quality: A build-up of dirt and contaminants in the air can cause health problems for employees and customers. Power washing can help improve the air quality in your business, making it a healthier environment for everyone.
Reduced Pest Problems: Pests are attracted to dirty environments. By power washing your building, you can help deter pests and keep them from taking up residence in your business.
Improved Customer Satisfaction: When customers see a clean and well-maintained building, they're more likely to be satisfied with their purchase or service. This can lead to repeat business and positive word-of-mouth reviews.
Commercial power washing provides many benefits for businesses of all sizes. By hiring a professional to power wash your building, you can improve the look of your business, extend the lifespan of your building, and create a safer and healthier environment for everyone. When it comes to choosing a power washing company, it's important to do your research.
Here are a few tips to help you choose the right one:
Ask around – Talk to friends and family members who have had their business' exterior power washed. They may be able to recommend a company that they trust.
Read reviews – Online reviews can be a great way to get a sense of what a company is like. Be sure to read both positive and negative reviews so that you have a well-rounded picture.
Get quotes – Get quotes from several different companies before making a decision. This will help you to compare pricing and services offered.
Ask questions – When you're meeting with potential power washing companies, be sure to ask them any questions you have. This can help you to make an informed decision.
By following these tips, you should be able to find the perfect power washing company for your business! Maintaining the cleanliness of your business' exterior after power washing can seem daunting, but with a little effort it can be a breeze.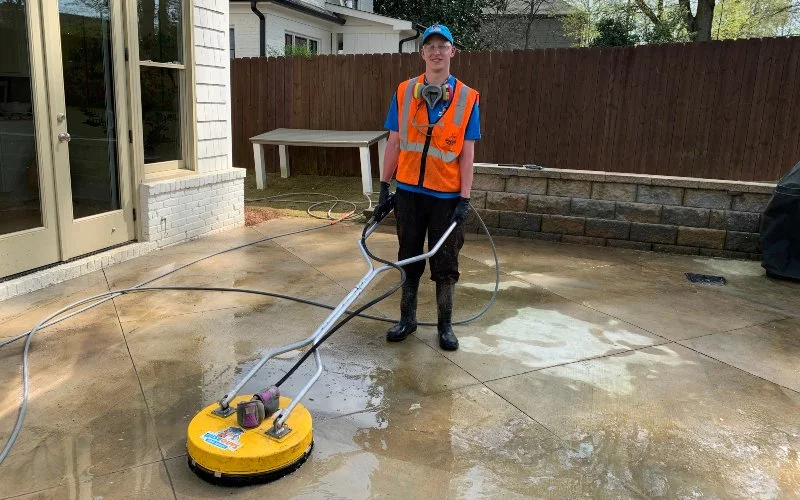 Here are a few tips to help you out:
Schedule regular power washing services – This will help to ensure that your business' exterior always looks its best. 
Perform a post-wash inspection – After each power washing service, be sure to inspect the area for any missed spots or areas that may need more attention. 
Clean up debris – Power washing can sometimes leave behind debris, so be sure to clean it up afterwards. 
Spot-clean as needed – In between scheduled power washes, spot-clean any areas that seem to be collecting dirt or grime.
By following these tips, you can keep your business' exterior looking great all year long!
WiseGuys Pro-Wash
https://www.google.com/maps?cid=14964188319842587706
267 W Wieuca Rd NE STE 202, Atlanta, GA 30342
(404) 596-5334
https://wiseguysprowash.com/